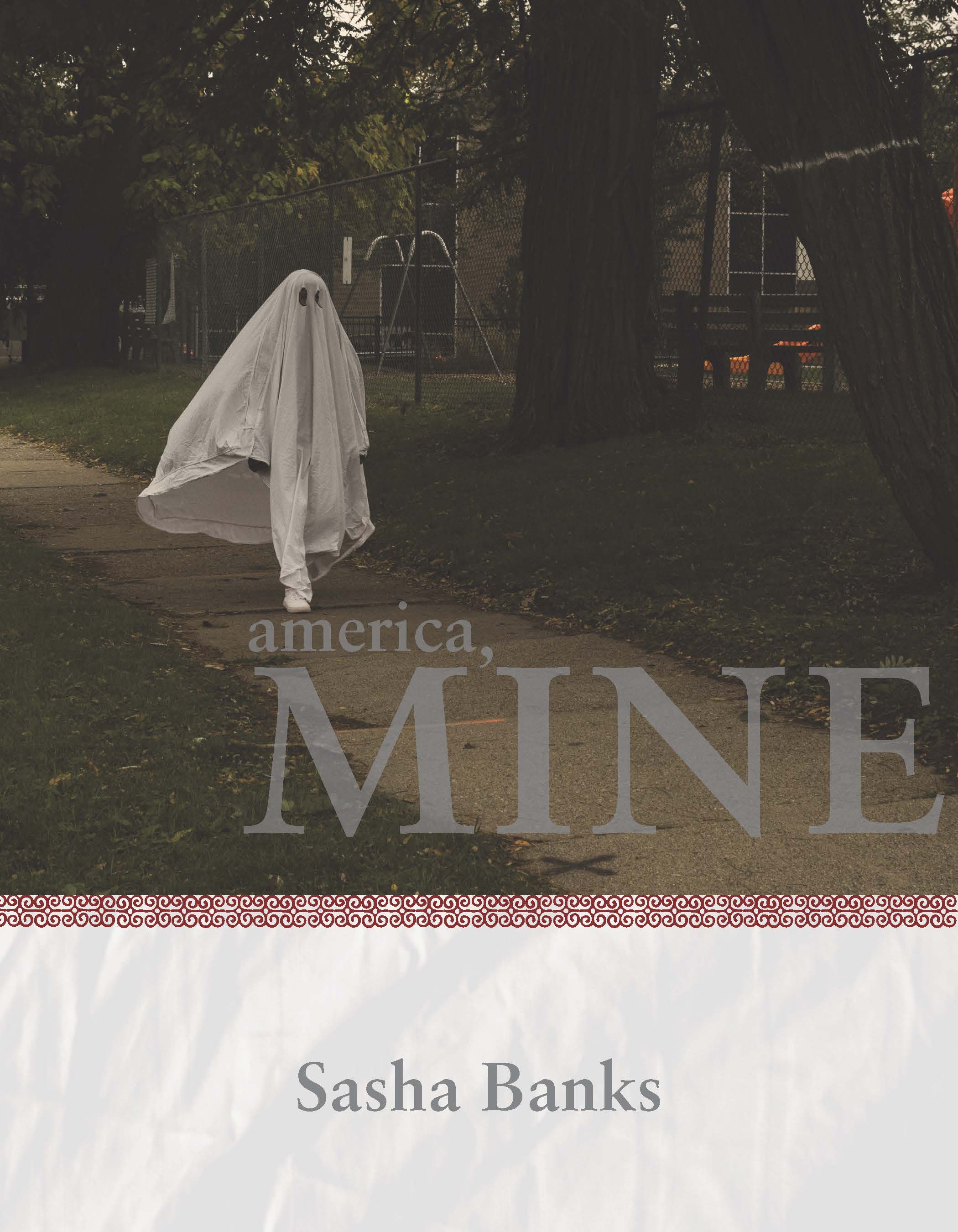 america, MINE
Sasha Banks
Perfect Bound Trade Paperback, 90 pages, 7" x 9"
ISBN: 978-1-947918-04-7
"What joy is this that never knew us?"

Sasha Banks's searing debut poetry collection america, MINE is a radical conjuring of a post-white supremacist United States of America. Blending speculative poetics and historiography, Banks creates a rich revisionist account of America, in which its most fraught institutions collapse and Uhmareka emerges—layering a new, strange, and graphic landscape with the textures of supernatural happenings, ghosts, creatures, and inconsistent recollections of American histories. Spurred on by the trauma of and lack of local and national accountability for Michael Brown's murder in 2014, Banks mixes magical realism and keen rage to interrogate white supremacy's narratives, challenge its prerogatives, and usher in a future where it can thrive no longer. In so doing, these Afrofuturist poems by turns summon historical and archetypal Black figures like Fannie Lou Hamer and Aunt Jemima to the National Mall; rouse the ghosts of Tituba, Rekia Boyd, and Cynthia Wesley at the Canfield Green Apartments in Ferguson; and describe a period of raucous destruction before Uhmareka is ushered in by the strange and mysterious forces that herald it. Will Black lives thrive in the re-envisioned Uhmareka, or will they struggle to balance new freedom with the lingering fear of the old ways' return? In america, MINE, Sasha Banks demands that we consider what possibility may spring forth from this imagining.

PRAISE FOR america, MINE
In america, MINE Banks comes to collect a devilish debt. A conduit for ancestral wisdom and wizardry, Banks shows us how words can be all things—a wish, a whip, a wound, a world, a wonder. This book be a black mirror reflecting all that we hope for, "some spectacular ⁄ abundance," and all that we fear, "the twisted shape ⁄ of grief." These poems interrogate what it means to be American and Uhmarekin, trouble and antagonize America's hostile history (distant and recent), and fantasize a fertile future for Black protagonists who will soon "inherit the sky ⁄ somehow."
—T'ai Freedom Ford, author of & More Black

america, MINE takes on the hard work of refracturing an already fractured landscape and rebuilding it in a more honest image. What I love most about the work of Sasha Banks is how the language offers a permission to grieve and a permission to feel rage. But, even beyond, a permission to fully see your people on the other side and figure out how to love them best there. A place where "The blood will not be ours, anymore." This book truly sings.
—Hanif Abdurraqib, author of A Fortune for Your Disaster
With trenchant wit and thrilling inventiveness, Sasha Banks's visionary poems invite us to imagine building the post-white supremacist, post-capitalist America of our dreams on the ruins of the past—will "Uhmareka" be an Afrofuturist utopia, an Afro-pessimist wasteland, or some bizarre combination of the two? Can we build anything at all on so shaky a foundation? Let's watch!
—James Hannaham, author of Delicious Foods
REVIEWS
Scalwag "Sasha Rewrites Uhmareka: Jamara Wakefield reviews Sasha Banks' debut collection america, Mine"

The Adroit Journal "Rage, Turth, Wonder: A Review of Sasha Banks' america, MINE" by Mia S. Willis

Jacket2 "Worship the Change," a capsule review by Kenna O'Rourke

Terse. "Retelling of History Fused with Afrofuturism in Sasha Banks' america, MINE" a book review by Maya Williams

Sundress Publications "Lyric Essentials: Candice Iloh Reads Sasha Banks"