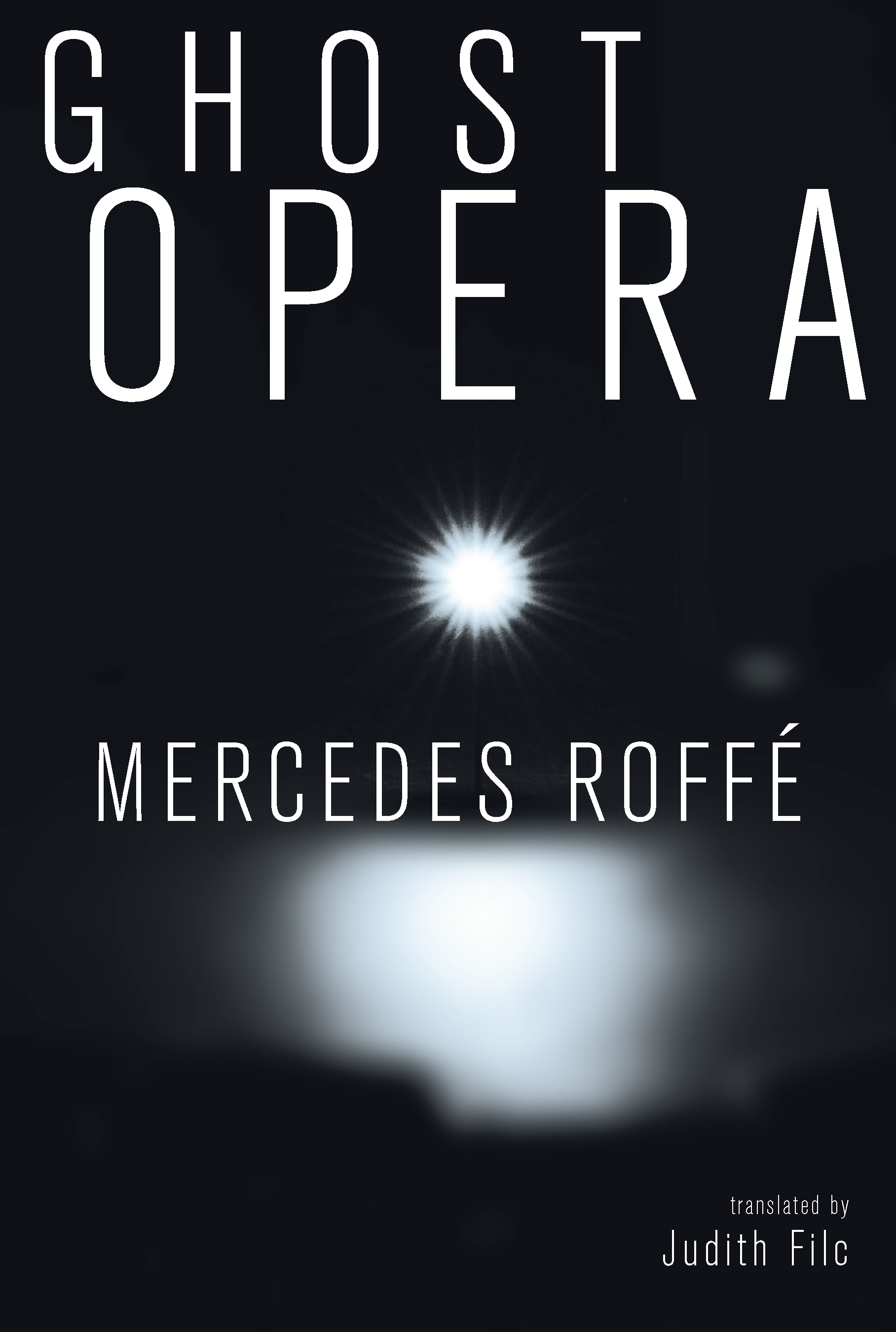 Ghost Opera
Mercedes Roffé
Translated by Judith Filc
Bilingual Edition
Perfect Bound Trade Paperback, 234 pages, 6" x 9"
REVIEW
Rain Taxi "Ghost Opera by Mercedes Roffé" by Ruth Danon, Volume 23, Number 4, Winter 2018 (#92)

In the stunning collection Ghost Opera, Mercedes Roffé, one of the most esteemed contemporary poets of Latin America, reminds us that poetry's true origin is the stillness that precedes song. Sharing its title and impulse toward the ritualistic with Chinese composer Tan Dun's 1994 piece for string quartet, Roffé's Ghost Opera expands outward, using forms and constraints to explore language through a multifaceted lens. Roffé presents us with an opus of diverse allusions, textures, and intertextualities—from Bach, Schoenberg, and Shakespeare to painting and Artaud's concept of ritual—all infused with an awareness of history and anthropology through which Roffé conducts her polyphonic fugue of image and lyric. Translator Judith Filc expertly recasts these poems into English, creating an elemental music that transcends the bonds of language's capacity to mean by reaching toward more etheric realms.
PRAISE FOR GHOST OPERA
There are no poems I crave more than Mercedes Roffé's. In the original Spanish and Judith Filc's exquisite English translation, Ghost Opera is song, fugue, dream, drama, prayer, oracle, and memory. Doing what ancient poetry used to do—what poetry still ought to do—Roffé's poems "open the gates of Sleep" and waken the dying soul. Roffé's work is widely read in her native Argentina and throughout the Spanish-speaking world. North Americans need her voice, too, perhaps more than we know. We're incredibly fortunate to have this brilliant bilingual collection.
—Janet Kaplan, author of Dreamlife of a Philanthropist, The Glazier's Country, and The Groundnote; editor, AMP magazine
Mercedes Roffé (Buenos Aires/New York) is internationally recognized for the quality of her poems. Her collection Ghost Opera travels the workings of artistic expression. The poems manifest as an impressive progression of forms, through which she presents a step-by-step evolution of language and meaning. Opening poems perch over a great silence, cuing us to listen for ethereal voices—or perhaps only structures?—rising out of the hemisphere's deep past. Subsequent pieces move into situations—abstracted stagings of human behavio—and explore how the arts open multiple channels for the senses. A final series of compositions carries poetic language up into musical climax and down into prayer. Translator Judith Filc has recreated the color and precision of Roffé's scenes, allowing her words to cut across an inescapable, inhuman quiet.
—Kristin Dykstra, translator and coeditor of Mandorla: New Writing from the Americas / Nueva escritura de las Américas
Powerful, deep, and original, Mercedes Roffé's work constitutes one of the most remarkable examples of the struggle the poem continually fights to restore to words the meaning that was wrested from them.
—Raúl Zurita, Chilean National Literature Prize, 2000; Pablo Neruda Ibero-American Poetry Prize, 2016