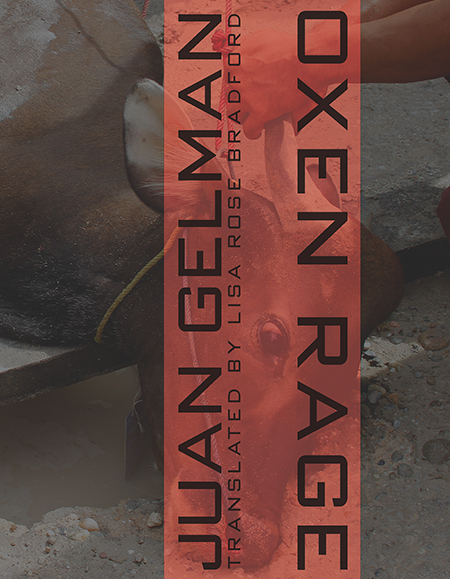 Oxen Rage (Cólera buey)
Juan Gelman
Translated by Lisa Rose Bradford
Bilingual Edition
2015
Perfect Bound Trade Paperback, 392 pages, 7" x 9"
2016 PEN Award for Poetry in Translation longlist selection.

REVIEWS
Jacket2 "Gelmaning on: A review of Oxen Rage (Cólera buey)" by Lucina Schell
World Literature Today by Ryan Long
Mantis 14 "Roving the Difficult Fields: A Review of Oxen Rage" by Julia Leverone
why beneath the glory of this sun
do i sorrow like an ox?

A bull awakes one day to the realization that he's a castrated, browbeaten ox but is then briefly abstracted from this sorrow as the morning sun gently warms his hide and lifts heady aromas from the grass; while a man, graced with human cogitation, but burdened with the general suffering that surrounds him, delights in gorgeous women walking through flowery plats, who fleetingly offer distraction: this ambivalent oxen attitude pervades Juan Gelman's Oxen Rage. Rife with speculation and uncertainty, this is a book of ruminations, written in language at times unorthodox and full of quirky coinages, often playful and paradoxical, always musical and richly imaginative.
Oxen Rage is a "midpoint 20th century" masterwork by a poet "wretched and proud," "obscure in all his emberglow." An exile, as Dante & so many "word-concertistas" before him, Juan Gelman "disorders the chaos / with demented exactitude." To have this core book of his oeuvre become available now, accurately and beautifully englished, is a major event—and a superb & most useful guide through this, our own, demented century.
—Pierre Joris
With her precise and imaginative translations, Lisa Rose Bradford makes it possible for the English-language reader to finally know one of the masterpieces of 20th-century Latin American poetry, Juan Gelman's Oxen Rage. The work is a major crossroads in the leading thoroughfares traversed by this author, a model of rebellion and freedom, of devotion and rigor, in his exploration of reality through poetry. Each one of the "the remains of nine books" that makes up Oxen Rage has its own character and in their sequence achieves the total integration of the political and aesthetic avant-garde. Gelman takes on poetry as a widening of the understanding of the world, as the possibility of universal dialogue, as a radically transformative act.
—Víctor Rodríguez Núñez

Juan Gelman's groundbreaking Oxen Rage—one of the key works of Spanish-language poetry published in the second half of the twentieth century—engages the question of translation in unexpected and fascinating ways. Fortunately for English-speaking readers, Lisa Rose Bradford has produced an astonishing version in English of this masterpiece by the 2007 Cervantes Prize winner, published here in a wonderfully edited bilingual volume. Word by word, poem by poem, and book by book, Bradford carefully reproduces the playful logic of translation that pervades Gelman's original with exceptional ease and grace. If, as the Argentine poet suggests, the poems of Cólera buey constitute a "herd of pieces that aspire to breathe," Bradford manages to reproduce in Oxen Rage that same vital aspiration by subtly recreating the many different dictions, tones, and voices that articulate Gelman's experimental conceptualization of poetic creation as a process of translation. As Bradford's version powerfully shows us, it is precisely here, in the crucial space where translation and creative writing ambiguously blur lines—an essential tradition of modern poetics gradually established by writers of the stature of Fernando Pessoa, Ezra Pound, Jorge Luis Borges, Jack Spicer, or Mary Jo Bang—where Gelman's Oxen Rage undoubtedly deserves a distinguished place.
—Ignacio Infante, Washington University in St. Louis
His writing is like a gust of wind, like a pounding wave where the sands delight in his verbal marvels, broken sentences, absence of punctuation, fractured rhythms that link, superimpose, interrupt and chop, leaving the poem in a question mark, which is a mark of life, the frozen sign of doubt. Oxen Rage is a key book in twentieth-century Argentine literature, and with its publication, Gelman became an indispensable figure in the world of literature.
—Marcelo Pichon Rivière, writer & filmmaker